Overcome the fear of speaking in public by retraining your unconscious mind to be confident, have enthusiasm, have energy, no anxiety, and vanish nervousness with the use of this Powerful Hypnosis MP3 Session!
Speaking in Public – you know that feeling! You've worked for weeks on your presentation. In your mind you know it's your best piece of work. Then little by little the nerves start building up. Then the moment of truth comes. You're on the platform standing up in front of the meeting and Zap!
Your mouth goes dry, your legs start to shake, your voice trembles, your mind goes blank …..
So What Just Happened?
Every book you've ever read on public speaking says the same thing. Be prepared, know your audience, tip after tip. But your brain played a big trick on you. You thought you knew everything about Public Speaking. But yet, you flubbed up.
You need to realize that public speaking is basically all about Self Confidence. When you feel confident it's going to show. You will be able to tell by the reaction of your audience. If you're audience is reacting well while you're speaking this will boost your confidence even more.
Fear of Failure can be a public speakers worst enemy! This hypnosis session will also help you focus and visualize speaking in public. With visualization and positive affirmations your unconscious mind will be confident that you are a successful public speaker. You'll be able to foresee any situation and handle it with confidence.
Many public speakers often seek help from hypnotherapists. For the last few years, hypnosis has been the tool of choice for public speakers, successful businessman and businesswomen, as well as people who are terrified of getting The Best Man speech at a wedding. Hypnotherapists also treat people to get over job interview nerves.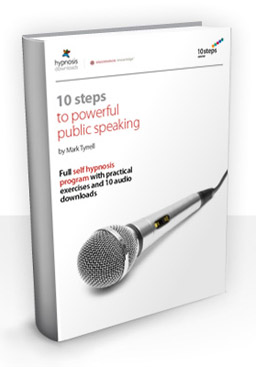 This hypnosis session with its powerful hypnotic suggestions will work with your unconscious response when you speak in public. This session will help you control your levels of adrenaline and excitement to enhance your public speaking performance. The session will work to stop the fear of public speaking. You're not going to feel like running away instead you'll be calm and focused.
Another thing you'll notice after listening to Overcome The Fear of Public Speaking Hypnosis is that you're going to lose the feeling that people are judging you while you speak. You will also notice your breathing will be much better than it was before. Your speeches will come across to your audience so much better because you've retrained your unconscious mind to be calm and to be confident. The tempo of your speeches will also improve immensely. Without even thinking about it, you're going to feel in control! You're even going to notice a change in your heart beat. Many public speakers will tell you that they have all had a rapid heart beat, may be a shortness of breath, or even nausea.
Cure Your Fear of Public Speaking Hypnosis MP3 Download will re-educate your brain to banish speaking fear, control your adrenaline, and believe it or not actually allow you to enjoy giving a presentation in front of people. This specially designed Hypnosis MP3 Download has helped so many people that it's guaranteed 100% to cure your fear of speaking in public.